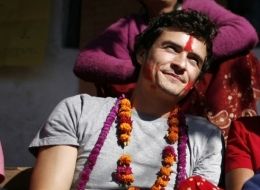 Heartthrob Orlando Bloom is the latest celebrity to lend support to UNICEF. Bloom visited the mountainous nation of Nepal to help draw attention to the UN's efforts to fight poverty and infant mortality there. He spent four days in Nepal and toured schools and villages as well as met with blind and disabled children that are being assisted through UN programs:
<
Accompanying Mr. Bloom on the trip were UNICEF Regional Director Dan Toole and UNICEF Representative in Nepal Gillian Mellsop. Besides touring UNICEF programmes, he visited Chitwan National Park and Lumbini, the birthplace of Lord Buddha.
In Kalika village, Mr. Bloom's forehead was smeared red with the 'tika' with which local women had welcomed him, and he wore garlands of flowers they had given him upon his arrival with the guests from UNICEF.
"There was a time when we could not walk alone on that hillside, where the villagers used to throw their dead babies," one resident told the visitors. "They said their spirits used to haunt the hills. Not any more. Over the years, with improved health, there are no dead babies being thrown over the ridge and no more spirits wandering these hillsides."
"Look at the comparative indicators of the last six years," added village facilitator Chali Subedi. "Things have taken a turn for the better since the men and women got organized."
Mr. Subedi directed the guests' attention to a chart on the wall of a village home. "Six years ago only 84 per cent of school-going age children were enrolled in schools," he said. "Now every boy and girl goes to school. Previously only 25 per cent of the households were taking iodized salt [to prevent iodine deficiency disorders]. The figure now has increased to 38 per cent. Similarly women's workload has decreased from 17 hours per day to 14 hours a day."
The members of a children's club at a local school in the hills of Pumdi Bhumdi had a different success story to narrate to Mr. Bloom. As the children explained, they have been instrumental in promoting safe hygiene and sanitation practices in their village.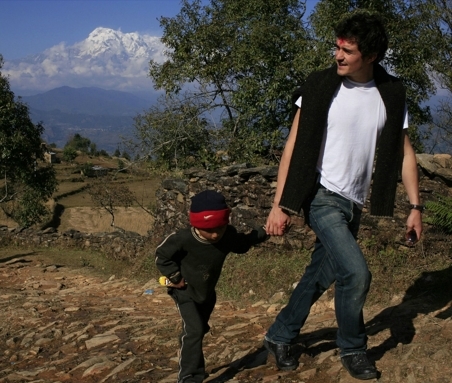 In Pokhara village, Mr. Bloom mingled with over three dozen blind girls and boys. He also played a small role in a mini-drama the children were recording that day for the UNICEF-supported radio programme 'Saathi Sanga Manka Kura' (Chatting with My Best Friend).
The drama dealt with the plight faced by girls in a hostel without a female warden. Mr. Bloom played the role of a guest who tries to offer the girls advice. "Talk about your problems," he said, consulting the script provided by the children. "There's no need to feel shy. It's always good to talk about issues that concern you."